Advice giving and new media
Rather than being a threat to advice giving, the advent of the Internet appears to have given even more opportunities for people to ask for, and receive advice.
In some cases the advice giving format has simply transposed from the familiar formats seen on print and broadcast media to appear on online magazines, blogs, podcasts, apps, video streaming websites like YouTube or Vimeo, or online radio.
Other approaches, such as giving advice via Twitter or Facebook may use some of these formats or take on a different approach of sharing information, peer to peer conversation, or even critiquing existing advice columns either in the comments sections or on other blogs or Facebook groups.
Within this the area of advice giving has shifted so charities, governments, NGOs and activist groups have established their own advice resources – offering information on health, wellbeing, relationships, parenting etc. Some of these work exists as factsheets while others incorporate the agony aunt model as a means of creating content and dialogue. This may be used as a stand-alone website or social media account, or in conjunction with other media (such as a website that goes alongside a TV show, a Facebook page that supports a radio programme or a website that uses text/SMS to collate reader questions and feedback).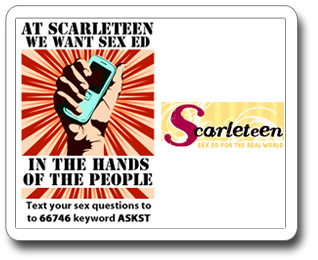 Opportunities for using new media and social media for advice giving include being able to deliver the same or similar messages across multiple platforms, having a wider audience reach, and increasing opportunities for dialogue with audiences (rather than static problem and answer formats). People have more choices over who they ask for advice and when they seek it, and opportunities for peer-to-peer and peer/community created content that no longer need mainstream media to develop and share their ideas.
However internet access remains a barrier for many world wide and issues of private access continue to be a problem, so those who rely on shared computers or internet cafes may not feel or be safe asking for advice on issues that are taboo or illegal within their countries. Issues around stalking, harassment and trolling also pose risks for those wanting information about their health, wellbeing or life events where unmoderated sites, platforms or groups could lead to people being mocked or abused because of their problems. And while the quality of advice giving in mainstream media varies wildly, the expansion of advice across new media provides more choice but more opportunities to encounter advice that may be judgemental, poorly delivered or inappropriate to a person's needs.
Some examples of individuals or organisations that offer advice giving dialogue within new media formats include:
Captain Awkward (and an affiliated friends forum)
The independent media station RNW hosts Love Matters that provides sex and relationships contant resources to different countries in multiple languages. They include traditional advice column formats with Aunty Ji answering reader problems for their Indian site, while Marwa Rakha is the agony aunt for the Middle East's site, and Valentine Njoroge helps out Kenyan readers with their sex and relationships worries.
Some print and broadcast media also use social media – particularly Twitter and Facebook to generate discussions among readers, collect more problems, or share wider help resources.
This has also been adopted by medics and charities working through social media to answer problems, raise awareness or direct people to services. While some therapists have begun using websites, email, phone or skype to offer advice. Medical advice and education have made use of the Internet, blogging, telemedicine, SMS/texting (also sometimes referred to as 'm-health' standing for 'mobile health'), and Skype. All of which offers opportunities around extending the platforms for traditional advice giving, which may include commercial partners that might in turn open up or close down opportunities for useful and ethical advice giving.
These approaches range from static information to conversations, dialogues and sharing and collating information (e.g. health wikis) and while the area of advice columns and new media have not been well assessed, there is a rich and growing literature on e-health, health informatics, online support groups, and online health information seeking.
This blurs the boundaries between the traditional advice column format – where advice can now be given by people who don't work in/for media. But also challenges hierarchies so the service is no longer 'expert' led – be that by an agony aunt or uncle; or medic, therapist etc. Anyone who wants to set up as an advice columnist can now do so.  While this may result in inaccurate and inappropriate information being shared, it can also mean more imaginative, responsive and thoughtful ways of giving advice and sharing stories can happen.  Such as this example from a young woman using her story to talk about sexual abuse and self harm:
Further Reading
Baker L, Wagner TH, Singer S and Bundorf K. 2003. Use of the Internet and Email for Health information. JAMA. 289 (18) pp.2400-2406.
Beck F, Richard JB, Nguyen-Than V, Montagni I, Parizot I and Renahy E. 2013. Use of the Internet as a Health Information Resource Among French Young Adults: Results From a Nationally Representative Survey. Journal of Medical Internet Research. 16 (5) e128
Locher M. 2006. Advice Online. John Benjamins Publishing Company.
O'Neill B, Zeibland S, Valderas J, Lupianez Villanueva F. 2014. User generated online content: a survey of internet users in the United Kingdom. Journal of Medical Internet Research. 16 (4) e118
Waldman L and Stevens M. 2015. Sexual and Reproductive Health Rights and Information and Communications Technologies: A Policy Review and Case Study from South Africa. Report. (also nicely discussed here).