"I'm all at sea", "I've been left high and dry", "I've lost my mainstay", I'm rudderless". When it comes to advice giving people frequently draw upon nautical metaphors to explain their situation.
They also talk of needing, or losing, their guiding star. Sometimes putting the agony aunt or uncle into this role, whether they want to be there or not.
In my conversations with established agony aunts (those who've been doing the job for 20+ years or longer) most agree not all problems are easy to address, some are impossible to solve, and since the job comes with no training manual very often you're doing the best you can as you go along. Or as one agony aunt described it "there's no star to guide me".
Some months later, when putting this project together, I was thinking about how to illustrate both the experience of seeking advice through the media, and what it felt like to give advice. I returned to the idea of being lost at sea and searching for a star to guide you to a place of safety.
I recalled the song 'Who can I turn to (when nobody needs me)?' the lyrics of which suit the job of media advice giver pretty well:
Who can I turn to
When nobody needs me?
My heart wants to know
And so I must go
Where destiny leads me
With no star to guide me
And no one beside me
I'll go on my way
And after the day
The darkness will hide me
Any maybe tomorrow
I'll find what I'm after
I'll throw off my sorrow
Beg, steal or borrow
My share of laughter
With you I could learn to
With you on a new day
But who can I turn to
If you turn away?
I worked with local artist and friend Adam McNaught-Davis to create the image you can see on the homepage. Adam had already created a range of images of the Sussex coastline I liked. I wondered if they could be incorporated into the story of the agony aunt saying she'd no star to guide her.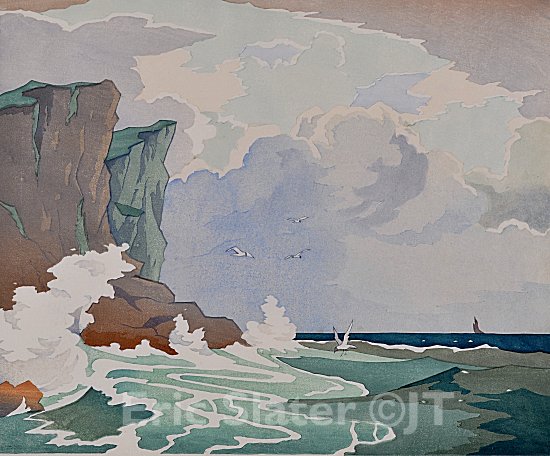 How did we make the picture?
Having shared with Adam the idea of the sea/star image he asked me to share what kinds of things might be added to the picture in terms of other styles or colours. I suggested the following artists/images:
Eric Ravilious
Eric Slater
Edward Ardizonne (and particularly his 'Tim' series of books)
I'd also been given a gift by my children. A necklace made by Shannon Westmeyer which used an 18th century seal to show cupid searching for the Polar Star, and the inscription 'if I lose you I am lost' which brought in the little character in the boat.
All of these came together with the idea of a seascape with someone feeling 'all at sea'. Over several conversations and at least one bottle of wine we worked with Adam's sketches and my requests that we included someone who was lost and searching in rough sea, where a coastline was visible to the viewer but not necessarily to the person who was lost. The person in the boat could be of any age, race or gender. And be either the person with the problem or the advice columnist trying to help them. And although our local coastline was featured, the stormy scene could be potentially anywhere in the world.
The aim was for anyone who saw the picture to be able to project their own story onto the picture. They might be able to find the shore (and refuge). But equally they may stay lost and potentially at risk. Outside of advice giving and our picture this is something that remains an issue within the fishing industry which is the most dangerous peace-time occupation to be in, and the loss of fishermen to their families is an often unrecognised tragedy.
Finding ourselves within the seascape
When you use cartooning to represent issues or problems, either overtly as is the case in much modern advice giving or perhaps more subtly as is the case in the illustration for this website, you can find yourself within a picture.
When Adam showed me the drafts of the picture I was struck by the person in the boat. It reminded me of another local landmark. The beautiful Mary Stanford Memorial near Rye Harbour. This was meaningful to me as I accidentally found it many years ago when, following a miscarriage, I'd gone away for a break in Rye to try and not think about it being Mother's Day weekend. And how I wasn't one. In the absence of any memorial for the pregnancy I'd lost this became the next best thing.
Adam shared how on looking back at the drawing he sees the ending from the children's programme In The Night Garden. Perhaps unconsciously influenced by watching this with his young son.
Aside from the ideas I shared with Adam to make the picture, and the references to the sea from agony aunt interviews and people's writing about their problems, I was able to bring my family history into the picture.
My maternal grandfather was a trawlerman, my grandmother a netbraider. But outside of this both were highly practical people who, if something needed to be done, tended to just get on and do it. Whether that was setting up a youth club or latterly an older people's community centre. In particular my grandmother was certainly the epitome of a 'real life' agony aunt – someone you could share your problems with over the kitchen table with a pot of tea.
Which is perhaps the best way to think about an agony aunt or uncle. Someone you could have a chat with if you needed to. Tea remains optional. Hopefully together you'll find a safe harbour.
Smooth sailing.