Self-Help
Writing or calling in to an advice column or radio programme is arguably a form of self-help.
But there's a separate and specific genre of self-help that exists alongside media advice columns and programmes in the form of books, CDs, DVDs, workshops, blogs, websites and other resources. These may cover a range of topics from parenting skills to living with physical or mental health conditions. And may overlap with advice columns where agony aunts or uncles recommend audiences use self-help materials (particularly if access to other support services or care is difficult to access). In some cases agony aunts and uncles also write their own self-help guides. Examples of these can be found here.
One of the best examples of self-help can be found in Hesperian's famous range of books, apps, handouts and fact sheets. Where there is no doctor, Helping Health Workers Learn, A community guide to environmental health and A book for midwives, plus many others provide practical information for those who need assistance but who do not live in areas where support services are freely or easily available.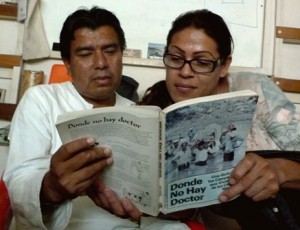 Alongside this is the idea of bibliotherapy – where you may use books with a positive message to make you feel happier or distract you from wider worries in your life. For example Armistead Maupin's Tales of the City series, a cover photo of which you can see at the start of this page.
The Reading Agency specialize in recommending books for both direct self care (information to help with personal, social or physical health problems) and bibliotherapy (books to help your mood).
Rather than reading for help, other self-help books and websites use structured or creative writing. This may be in the form of keeping diaries or journals, writing stories or letters (that you may well never send), or directed writing through specific work books that encourage self-reflection and change. A good example of this can be found in Rachelle Abellar's Self Care Journal and zine. All of this fits with the idea of Writing as a Way of Healing. If this appeals to you, you may want to join in with Write to Recovery.
Thinking outside of self-help just being in the form of books, websites, audio or films more interesting suggestions come from self-help in the form of crafting, baking or other creative activities or hobbies. Some of these are discussed at Scarleteen and this Happiness Action Pack. These are moving from the traditional writing/talking format of the advice column but are increasingly ideas agony aunts and uncles recommend people try.
Critics of the reading/writing/making approach to self-help argue they rely on people with reasonable literacy skills and may appeal more to those who are educated or have the time and money to invest in this kind of self-care. Others argue that many of these approaches can be done on a low income or are free and subvert the traditional idea of expert-led advice giving. Instead these approaches allow people to explore their own ways of feeling better, stronger, or just distracted from their issues for a while. Much of this intentionally or unknowingly follows the approaches of Paulo Friere and Augusto Boal  and makes use of wider storytelling techniques you can also see shared in community based programmes like StoryCorps and HealthTalk.
Other applications of self-help come from those like Gary Wood , Meg Barker, Jean Smith and Cory Silverberg who have written advice books that are also based around analyzing and critiquing the self-help genre.
In addition Barker, Wood and Silverberg blog about wider issues relating to their work in therapy, life coaching and education. Including in Wood's case information on how to read, evaluate and apply self-help materials.
While self-help multimedia guides can be in the form of advice, tips, worksheets and information to help people overcome problems or take the next step to finding a solution, the quality and accuracy of information varies widely. Some self-help guides may be based on people's own ideas or experiences, others on things like special diets, exercises or approaches they have invented to 'cure' problems, while still more follow standard mental or physical health advice, aimed at a lay audience with ideas to try that may be recommended if you were seeing your doctor or a psychiatrist.
As with advice columns and programmes, a fair amount is known about the ways self-help resources are constructed, how messages are shared and how such texts are promoted, marketed and endorsed through the media (including via advice giving and particularly through TV programmes – for example, Oprah Winfrey recommending a self-help book can lead to dramatic increases in sales).
Less is known about how people engage with self-help media after purchase, about whether it brings about any lasting positive change and if it is possible to map any behavioural or attitude changes specifically to one self-help source. Evaluations of books to assist with mental or physical health problems have shown this form of self-help can be effective. And while self-help resources by organisations like Hesperian are internationally focused, the self-help market more generally remains Western-centric and most of the resources in this genre and the evaluations and criticisms of them tend to come from Europe, Australia, America and Canada.
Critics of the self-help market are more anxious books, websites or similar may be used instead of seeking appropriate medical care. Or recommendations from self-help materials to avoid standard medical treatment (particularly for things like vaccinations, cancer therapies, HIV medication etc) can be dangerous and life-threatening.
For relationships advice, self-help books can be empowering and critique existing ideas about what makes for a 'healthy' or 'happy' relationship. However many more such as Mars and Venus, The Rules, Why Men Don't Listen and Women Can't Read Maps, or resources associated with the Pick Up Artistry movement have been found to rely on outdated gender stereotypes, cod science, and encourage miscommunication, manipulation or coercion. Some critics (myself included) have argued in such cases self-help materials may sometimes be better described as self-harm.
Yet even with problematic self-help resources, many may still be beneficial even in showing someone what they don't want to do. Self-help materials can be instructive or assist people reflect on their situation, to encourage them to seek further help, and give them a distraction or something else to try if they feel powerless or trapped by health or social problems. They may suit those who prefer to read about their situation rather than to ask for help via letter, email or phone. Or for those where help is not readily available.
Further Reading
Barker MJ. Gill R and Harvey L. (forthcoming, 2015). Mediated Intimacy: Sex Advice in Media Culture. Polity.
Barker MJ, Gill R and Harvey L. (forthcoming, 2015). Sex advice books and self-help. In C. Smith, F. Atwood, R. D. Egan, & B. Mc Nair (Eds.) Routledge Companion to Media, Sex and Sexuality. Routledge.
Boynton PM. 2003. Abiding by the Rules: instructing women in relationships. Feminism and Psychology. 13 pp.237-245.
Boynton PM. 2007. A remedy for lonely hearts? British Medical Journal. 335 (7632) pp.1240.
Crawford M. 2004. Mars and Venus Collide: a discursive analysis of marital self-help psychology. Feminism and Psychology. 14. pp.63-79.
Out of the Cave
Potts A. 2002. The Science/Fiction of Sex: Feminist Deconstruction and the Vocabularies of Heterosex. Routledge.
Salerno S. 2006. Sham: how the self-help movement made America helpless. Three Rivers Press.
Rimke HM. 2000. Governing Citizens Through Self-help Literature. Cultural Studies. 14 (1) pp.61–78.
Wilson DM and Cash TF. 2000. Who Reads Self Help Books? Development and Validation of the Self-help Reading Attitudes Survey. Personality and Individual Differences. 29 (1) pp.119–29.
Zimmerman TS. Holm KE. and Haddock SA. 2001. A Decade of Advice for Women and Men in the Best selling Self-help Literature. Family Relations. 50 (2) pp.122–33.
Zimmerman TS, Holm KE. and Starrels ME. 2001. A Feminist Analysis of Self-help Bestsellers for Improving Relationships: A Decade Review. Journal of Marital and Family Therapy 27 (2) pp.165–75.
Zimmerman TS, Haddock SA and McGeorge CR. 2001. Mars and Venus: Unequal Planets. Journal of Marital and Family Therapy. 27 (1) pp.55–68.